My mini shopping spree continues. :)
A couple of weeks ago I got on a bit of an appliance kick.. In particular I was hunting down a washer and dryer for the San Franciscan's Garage.
I have long wanted a matched set of the Town Square washer & dryer. I searched for a while on eBay, but didn't see any come up... but I did see these Concord ones that looked really similar. I emailed the seller and asked what they were made of and they said metal, so I bid and won. Yay.. Well not so much... I have since found out that this set is resin and the doors don't open like the town square ones... They have yet to show up on my doorstep so time will tell what they actually are.... It doesn't really matter though, I didn't pay very much for them and they still look like a cute set.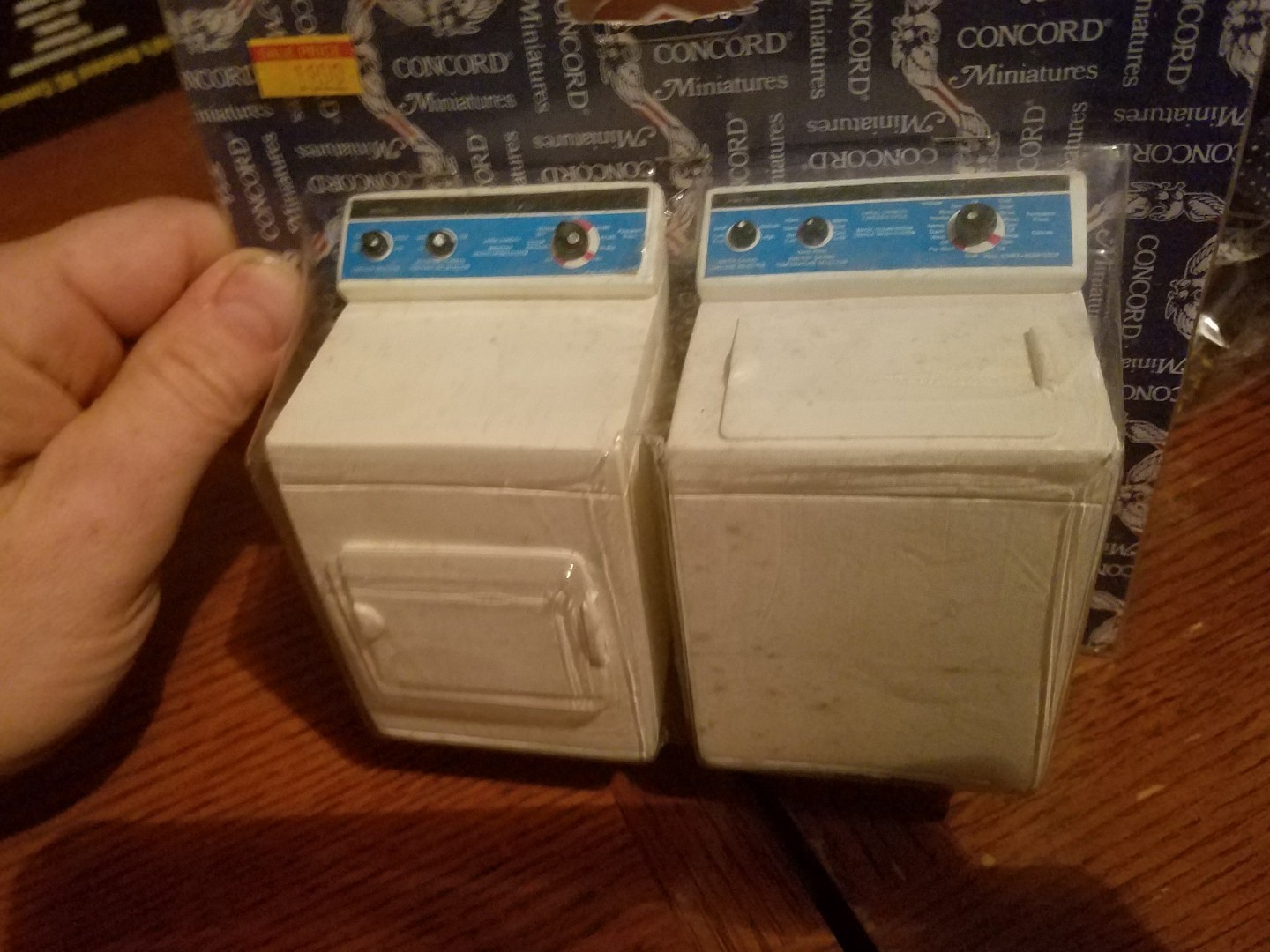 So the search was back on for the elusive Town Square set and after much internet sleuthing I found a pair at
Miniature Cottage
.
They are now winging their way to Oz. :D
In an interesting and unusual find, as often happens when you have a major search in progress.. I found these retro salt & pepper shakers in the shape of a Laundromat washer & dryer. So retro cute and about the right size.

They look like they will need a bit of a clean up on arrival but for less than 10 Australian dollars who cares!. :D
I'll likely cover up the salt & pepper holes with laundry accessories... a folded stack of towels and some detergent maybe or even a basket or mini iron.. I like the idea of these for the San Franciscan but we shall see if they fit.
So now I have three washers & 3 dryers.. oh my, how silly.. I'm just going to tell myself it's always good to have options. :D
While I was musing over at the Miniature Cottage website, I checked out their "retired pieces" section and saw a K J Metalworks stove and refrigerator being sold as a set. Be still my heart!
I've
wanted
been longing for one of these stoves since I saw one in
Kim Saulter's Flicker album
. If you know these pieces you know they are a splurge item!.. I ummed and ahhed about them for days.. adding to my cart.. removing.. adding.... Adding won. :D Better sign up for more overtime. :P

There are probably more realistic sets out there on the market but I just love these for their retro feel and fantastic interior features.
The bottom drawer opens as well. And as you can see by the electrical cord, they light up!
I wasn't really after the fridge, so it will be a bonus item. :)
Look, how adorable is the inside? :D Karen Fuller is/was a true artist.. not sure if she is still around but her Metalworks are fabulous.
Rounding out the appliance hunt I won an Auction for a DCMT Crescent Cooker. Having looked on Etsy and the like, I got this for a steal. About 5 pounds.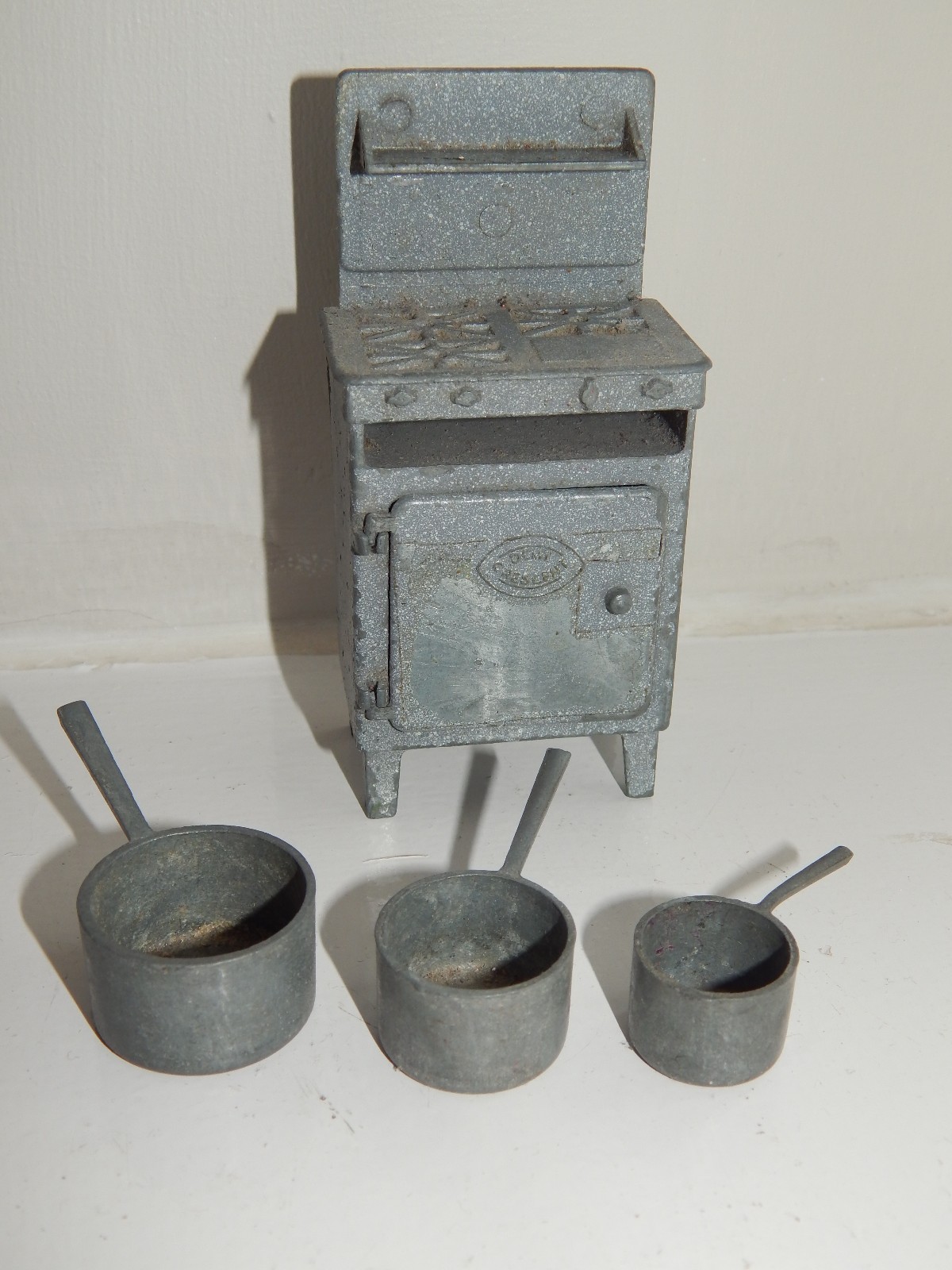 It's in pretty rough shape but I intend to paint it with enamel paint so better for it to be like this than in pristine condition. Now that I've bought it I notice that
Kim Saulter has this lovely
in her collection also. I must have subconsciously picked that up while pouring over her lovely albums. :)
Still more to come... until next time. :)